red velvet cake with marshmallow icing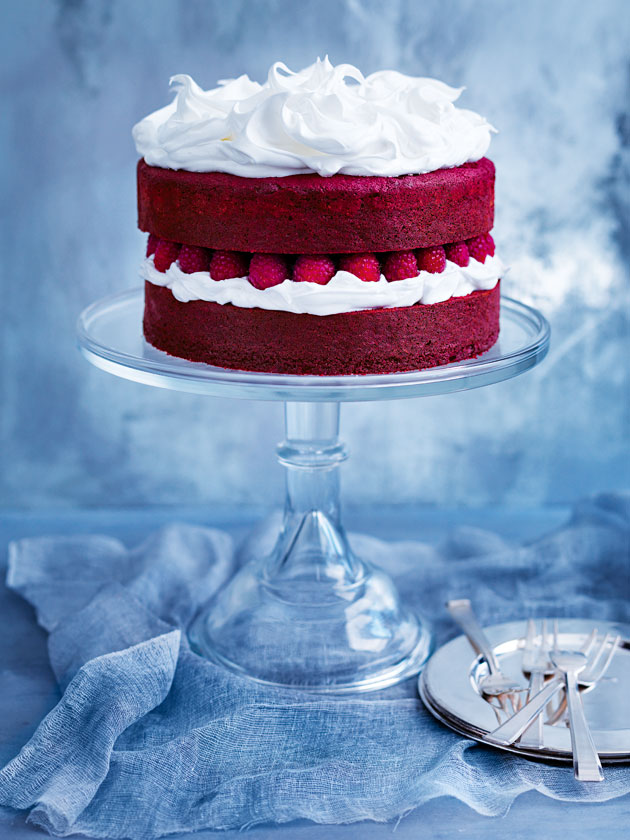 225g unsalted butter, softened
1¼ cups (275g) caster (superfine) sugar
1½ teaspoons vanilla extract
3 eggs
2 cups (300g) self raising (self-rising) flour, sifted
⅓ cup (35g) cocoa, sifted
¾ cup (180ml) buttermilk
¼ cup (60ml) red food colouring
250g fresh raspberries
marshmallow icing
4 eggwhites, at room temperature
½ teaspoon cream of tartar
1 cup (220g) caster (superfine) sugar

Preheat oven to 160°C (325°F). Place the butter, sugar and vanilla in the bowl of an electric mixer and beat for 8–10 minutes or until pale and creamy. Scrape down the sides of the bowl and add the eggs, one at a time, beating well after each addition. Add the flour, cocoa, buttermilk and food colouring and beat on low speed until just combined. Spoon into a lightly greased 20cm-round cake tin lined with non-stick baking paper and smooth the top with a palette knife. Bake for 1 hour 30 minutes – 1 hour 40 minutes or until cooked when tested with a skewer. Allow to cool in the tin for 10 minutes before turning onto a wire rack to cool completely.
To make the marshmallow icing, place the eggwhites, cream of tartar and sugar in a large heatproof bowl over a saucepan of simmering water and whisk with a hand-held electric mixer for 4–5 minutes or until thick. Remove from the heat and whisk for a further 3–4 minutes or until cooled to room temperature.
Using a serrated knife, cut the cake in half horizontally and place the bottom layer on a serving dish. Spread 2 cups (500ml) of the icing evenly over the base, top with the raspberries and the remaining layer of cake and top with the remaining icing to serve. Serves 10–12.


+ If the icing stands for too long in the bowl, it will go stiff. To soften, simply add 1 tablespoon of water and stir vigorously with a spatula.
donna hay team
Hi Liz. We use a standard supermarket food colour. Opt for the liquid ones, rather than the gel ones. Thanks! The DH Team.
Liz Tolevski
Is there a particular red food coloring that you use? Liz
donna hay team
Hi Angelica, you can make the cake a day ahead but best to ice the cake when serving. The DH team x
Angelica Deb
Hi,
I want to know if I can make the frosting 1 day ahead? If so does it go in the fridge?
Angelica Deb
Hi,
I want to know if I can make it 1 day ahead? If so does it go in the fridge?
donna hay team
Hi Tenille, the buttermilk is important in this recipe for the rising of the cake. If regular milk is used, unfortunately the texture will change. Enjoy!
donna hay team
Hi Lucy! This is not an easy recipe to halve, unfortunately. We would suggest baking two and freezing the other for a later date. Happy cooking!
Lucy Kravaris
Hi Donna Hay Team, I would like to make this cake only one layer, not sure on how to cut down on the ingredients, could please assist me.
Thank you
Tenille Harrington
Can I substitute buttermilk for something else?
donna hay team
Hi Tiffiny, just to let you know… buttermilk helps the cake rise - if you have forgotten to add it the cake will not rise as much and may have a dense texture. Happy baking! The DH team
Tiffiny Hafey
I am baking this cake now, but I forgot to add the milk. Will it work? I image I will have a shorter cooking time - if it does… HELP