indian-spiced beef skewers with celery slaw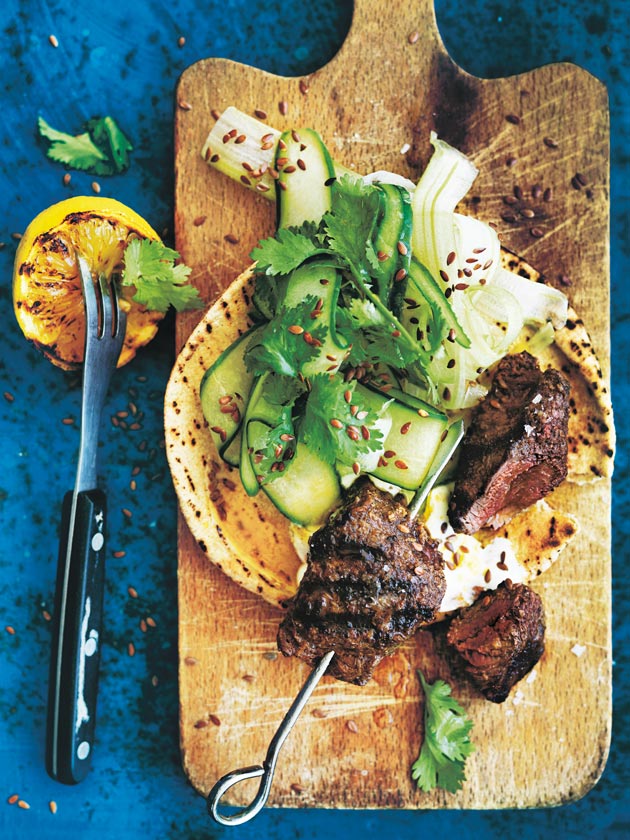 800g beef eye fillet, cut into 2cm pieces

1 clove garlic, crushed

1 tablespoon finely grated ginger

2 teaspoons garam masala

½ teaspoon sea salt flakes

1 tablespoon extra virgin olive oil

1 lemon, halved

4 flatbreads

natural Greek-style (thick) yoghurt,
to serve

celery slaw
2 tablespoons lemon juice

1 tablespoon flaxseed oil

1 teaspoon honey

4 stalks celery, thinly sliced

2 Lebanese cucumbers, thinly sliced

1 cup coriander (cilantro) leaves

1 tablespoon linseeds (flaxseeds)

Preheat a char-grill pan over high heat. Place the beef, garlic, ginger, garam masala and salt in a bowl and mix to coat. Set aside for 10 minutes to marinate.

Meanwhile, to make the celery slaw, place the lemon juice, oil and honey in a large bowl and stir to combine. Add the celery, cucumber, coriander, linseeds and salt, and toss to combine.

Thread the beef onto 8 metal skewers. Brush the char-grill pan with oil and cook the skewers, turning, for 6 minutes or until cooked to your liking. Set aside and keep warm. Cook the lemon, cut-side down, for 2 minutes or until charred. Place the flatbreads on the grill to warm through slightly. Serve the skewers with the flatbreads, yoghurt, slaw and grilled lemon. Serves 4.

There are no comments for this entry yet.