grilled chilli chicken and slaw burgers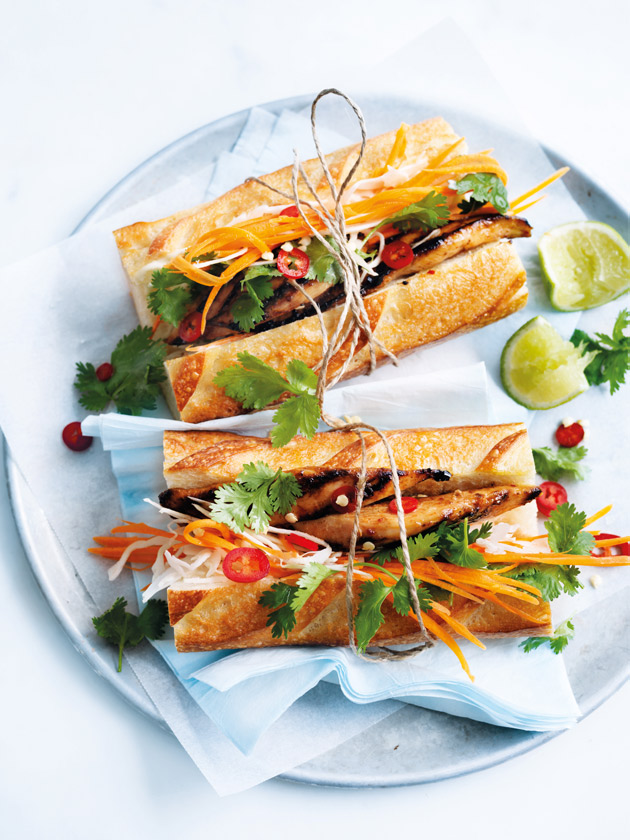 1 cup (80g) Asian chilli jam

2 tablespoons soy sauce

1½ teaspoons sesame oil

2 x 250g chicken breast fillets, cut into 4 pieces

½ cup (150g) whole-egg mayonnaise

½ tablespoon finely grated lime rind

1 teaspoon lime juice

1 white baguette, cut into 4 and halved

2 cups (160g) shredded cabbage

1 carrot, shredded

½ cup coriander leaves

1 small red chilli, thinly sliced

lime wedges, to serve

Place the chilli jam, soy sauce, 1 teaspoon sesame oil and chicken in a large bowl and toss well to combine. Cover and refrigerate for 20 minutes.

Combine the mayonnaise, lime rind and juice and remaining sesame oil in a separate bowl. Set aside.

Preheat a char-grill pan over medium heat. Cook the chicken for 4–5 minutes each side, or until cooked through. Spread the baguette with the mayonnaise and fill with the chicken, cabbage, carrot, coriander and chilli. Serve with the lime wedges. Serves 4.

Natalie Demartini
Great recipe. Took these to a family picnic and they were delicious.