zucchini and bacon slice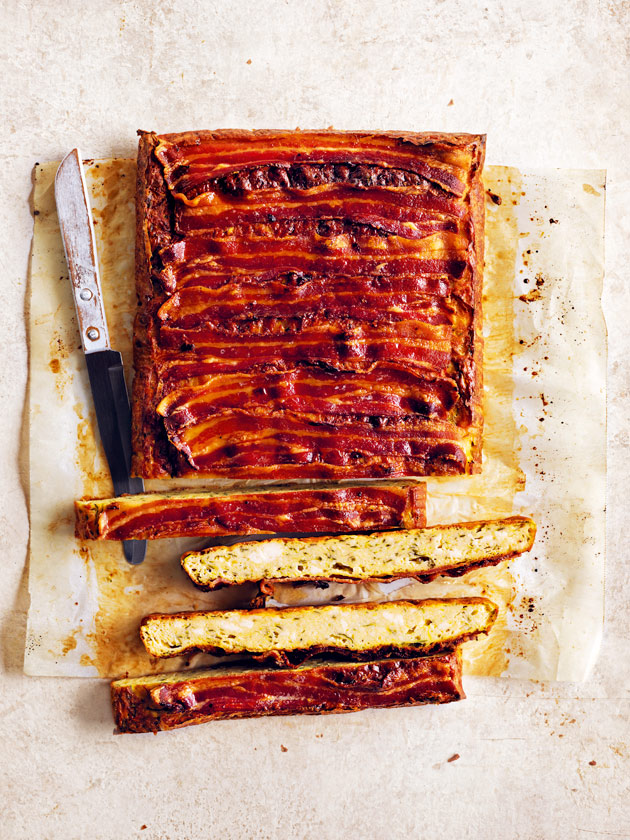 4 cups (640g) grated zucchini (about 4 zucchinis)

6 eggs

1½ cups (360g) fresh firm ricotta

½ cup (40g) finely grated parmesan

⅓ cup (16g) chopped chives (about 1 bunch)

sea salt and cracked black pepper, to taste

1 cup (130g) white spelt flour

2 teaspoons baking powder

10-12 thin rashers streaky bacon (300g), rind removed
2 teaspoons maple syrup (for brushing onto the bacon)
Preheat oven to 200°C (400°F). Line a 20cm x 30cm slice tin with non-stick baking paper, leaving 4cm of paper overhanging on the long sides.

Using absorbent kitchen paper or a clean tea towel, squeeze the liquid from the zucchini. Crack the eggs into a big bowl and add the zucchini, ricotta, parmesan, chives, salt and pepper and mix well with a spatula. Sift the flour and baking powder over the top, using a sifter or sieve, and mix until really well combined.

Spoon the mixture into the tin and smooth the top. Cover the surface with the bacon, overlapping the slices a little. Bake for 30 minutes. Wearing oven gloves, remove the slice from the oven. With a pastry brush, brush the maple over the bacon. Bake for 5 minutes or until crispy and cooked through.

Remove the slice from the oven. Allow to cool in the tin for 5 minutes, then use the paper to help you lift it onto a board. Cut into squares and serve warm, or refrigerate and serve cold. Serves 8-10.
There are no comments for this entry yet.