poached turkey breast
with lemon and thyme gravy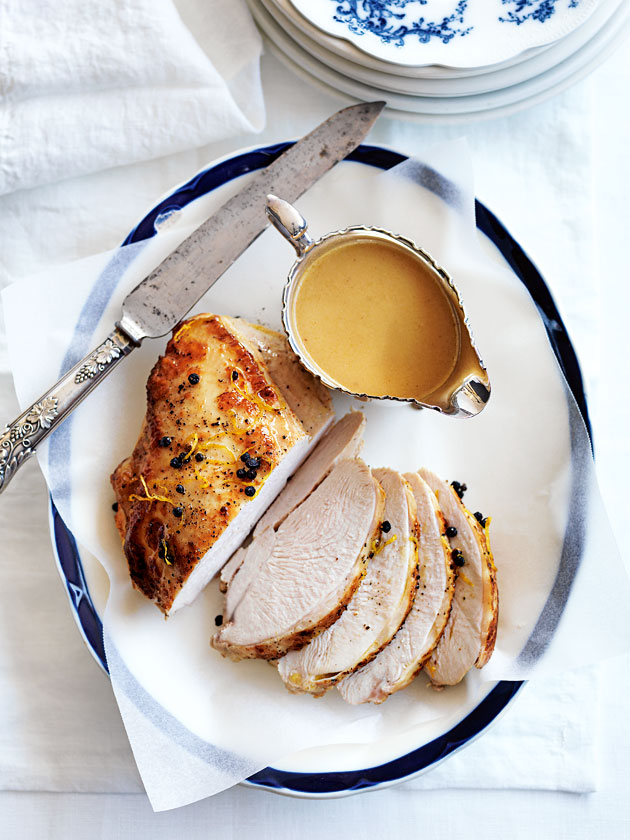 1 tablespoon extra virgin olive oil
50g unsalted butter
1 x 1.5kg turkey breast fillet, skin on
sea salt and cracked black pepper
4 eschalots (French shallots), peeled and halved
3 cups (750ml) chicken stock
10 sprigs lemon thyme
1 tablespoon finely shredded lemon zest
1 teaspoon black peppercorns
50g unsalted butter, extra
¼ cup (35g) plain (all-purpose) flour

Heat the oil and butter in a large heavy-based saucepan over medium heat. Sprinkle the turkey with salt and pepper and add to the pan, skin-side down, with the eschalots. Cook the turkey for 5 minutes or until golden, turn and cook for a further 5 minutes or until golden.
Add the chicken stock, lemon thyme, lemon zest and peppercorns and bring to a simmer. Reduce the heat to low and cook, covered, for 30 minutes or until cooked through. Remove the turkey from the poaching liquid, cover with aluminium foil and set aside to keep warm. Strain the turkey stock into a jug, discarding the solids.
Melt the extra butter in a large saucepan over high heat until bubbling. Add the flour and cook, stirring, for 2–3 minutes or until golden. Slowly pour in the turkey stock, stirring until smooth. Cook, stirring continuously, for a further 2 minutes or until thickened. Slice the turkey and serve with the gravy. Serves 6–8.

Jennifer Le-Galloudec
Absolutely gorgeous, no fail, delicious addition to the table and the old fashion gravy a delight! (I have never found a 1.5 turkey breast so go for 1 kg and if having a lot of people 2 x 1kg, even though you can get 2kg)
donna hay team
Hi Jade, to be safe it is best if it is boneless to ensure an even cooking time. The DH team
Jade Girvan
Could this be done with the turkey buffe on the crown or does the turkey breast need to be boneless?
April Doig
Fantastic wee recipe and will cook this Christmas. I have both a free range organic rolled breast or a whole one to cook. I was going slightly pale thinking about the latter. Watching and reading everything at the moment…..Donna Hay has certainly been the best! Been a follower for a thousand years i feel….she is 'my go to' when i need to impress xx