bocconcini-stuffed meatballs
with tomato sauce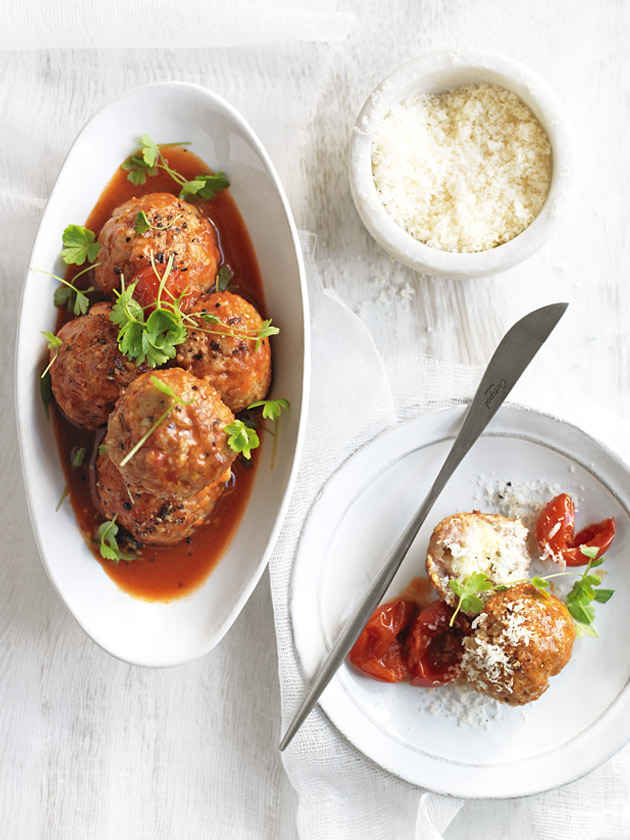 1 tablespoon milk
½ cup (35g) fresh breadcrumbs
350g pork mince
350g veal mince
4 cloves garlic, crushed
sea salt and cracked black pepper
12 baby bocconcini
2 tablespoons extra virgin olive oil
2 x 400g cans cherry tomatoes
1 teaspoon caster (superfine) sugar
2 teaspoons red wine vinegar
finely grated parmesan and micro (baby) coriander (cilantro) leaves, or basil leaves, to serve
Preheat oven to 240°C (475°F). Place the milk and breadcrumbs in a large bowl and mix to combine. Add the pork, veal, salt, pepper and half the garlic to the bowl and mix for 2–3 minutes or until very well combined.
Roll 2 tablespoonfuls of mixture into 12 balls and press a bocconcini into the centre of each meatball. Place a large heavy-based saucepan in the oven to for 10 minutes or until hot.
Add the oil and meatballs and return to the oven for 10–15 minutes or until golden brown. Add the tomatoes, sugar, vinegar and remaining garlic and cook for a further 15–20 minutes or until sauce is slightly reduced. Sprinkle with the parmesan and basil to serve. Serves 4.
donna hay team
Hi Sally, no problem at all to make the day before. Enjoy! The dh team
Justine Griffin
This is now a family favourite! It's fast, easy, tasty and no mess. Ticks all of the boxes. I use balsamic vinegar for extra kick and add to pasta to stretch! Thank you Donna Hay and your amazing team!
Sally Noble
Could these be prepared and left in the fridge the day before you need to cook them? thanks