Almond and fennel Swedish meatball pasta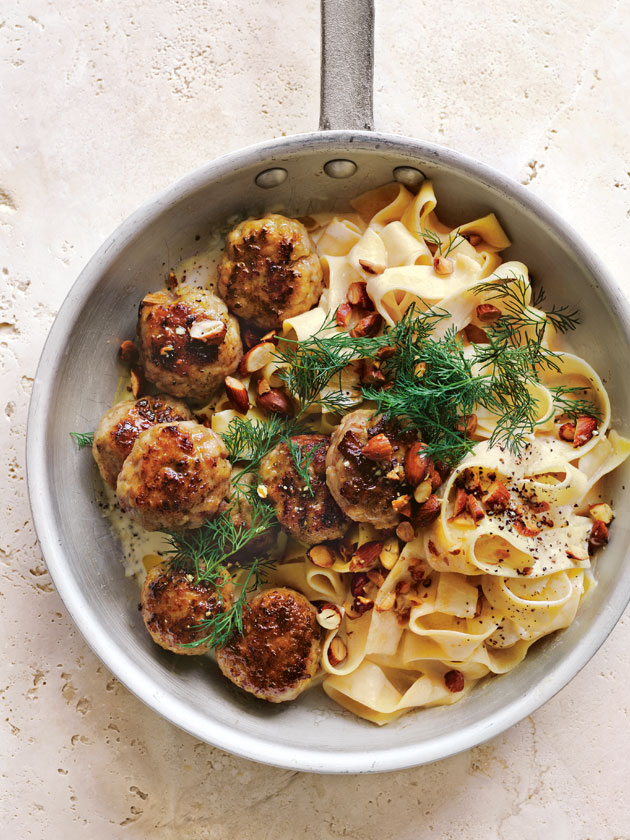 ¾ cup (120g) almonds, toasted and roughly chopped

2 tablespoons extra virgin olive oil

1 teaspoon fennel seeds, crushed

1 onion, finely chopped

2 cloves garlic, chopped

sea salt and cracked black pepper, plus extra black pepper to serve

250g pork mince

250g veal mince

1 egg

¼ cup (20g) parmesan, finely grated

1 teaspoon lemon rind, finely grated

¼ cup (35g) plain (all-purpose) flour, for dusting

1 cup (250ml) single (pouring) cream

1 cup (250ml) water

2 teaspoons Dijon mustard

400g dried pappardelle pasta

¼ cup dill leaves, to serve

Place ½ cup (80g) of the almonds in a small food processor and process until finely chopped. Heat 1 tablespoon of the oil in a large non-stick frying pan over high heat. Add the fennel seeds, onion, garlic, salt and pepper, and cook, stirring, for 4 minutes. Add the ground almonds and cook for 1 minute. Place the mixture in a large bowl, add the pork, veal, egg, parmesan and lemon rind. Mix well to combine. Roll 2 tablespoonfuls of the mixture into balls and dust each with the flour.

Heat the remaining oil in a large non-stick frying pan. Add the meatballs and cook, turning, for 5 minutes or until golden. Add the cream, water and mustard. Bring to a simmer and cook for 5 minutes. Cook the pasta in a large saucepan of boiling salted water for 6 minutes or until al dente. Drain the pasta and serve with the meatballs, remaining almonds, dill and pepper. Serves 4–6.

There are no comments for this entry yet.