cranberry relish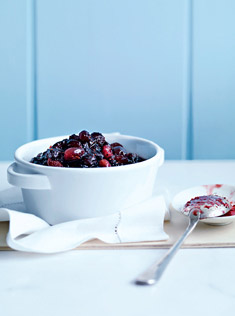 500g frozen cranberries

2 cups (440g) caster (superfine) sugar

¼ cup (60ml) water

2 tablespoons sherry vinegar

¼ cup (60ml) Port

Place cranberries, sugar and water in a small saucepan over low heat and stir until the sugar is dissolved. Add the vinegar and Port and cook for 20 minutes or until slightly thickened.
Spoon into sterilised jars or clean containers and store in the refrigerator. Serve with roasted turkey or pork. Makes 3 cups.

TIP: You can make the cranberry relish up to one week ahead and store it in the fridge.
There are no comments for this entry yet.