jam and cream angel food cake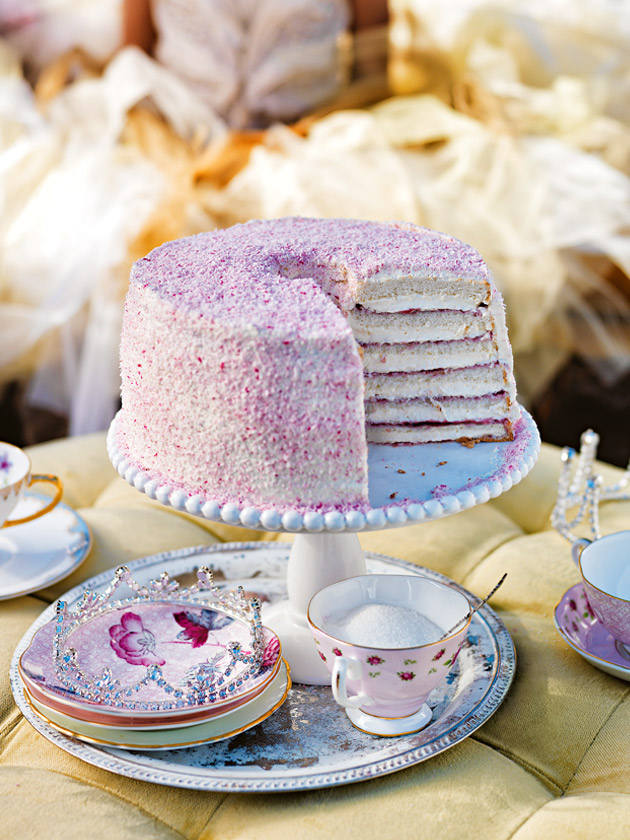 12 eggwhites, at room temperature

1 teaspoon cream of tartar

1¼ cups (275g) caster (superfine) sugar

1 teaspoon vanilla extract

1 cup (150g) plain (all-purpose) flour

2½ cups (600g) sour cream

2½ cups (625ml) single (pouring) cream

¾ cup (120g) icing (confectioner's) sugar, sifted

1¼ cups (400g) raspberry jam

1 cup (80g) desiccated coconut

pink food colouring

Preheat oven to 180ºC (350ºF). Place the eggwhites and cream of tartar in an electric mixer and whisk until soft peaks form. Gradually add ¾ cup (165g) of caster sugar and the vanilla and whisk until thick and glossy. Transfer to a large bowl. Sift together the flour and remaining sugar. Sift a second time over the eggwhite mixture and gently fold through to combine.
Spoon into an ungreased angel food cake tin and smooth the top with a palette knife. Bake for 30 minutes or until the cake just comes away from the sides of the tin. Carefully invert the cake and set aside to cool for 1 hour. Use a butter knife to loosen the edge of the cake and twist the middle funnel to remove from the tin. Allow to cool completely.
Carefully slice the cake into 6 layers using a bread knife. Place the sour cream, cream and icing sugar in a large bowl and, using a hand-held electric mixer, whisk until stiff peaks form.
Spread ¼ cup (80g) jam over 1 cake layer and top with 1 cup of the cream mixture. Repeat with the remaining layers. Place the cake on a platter and spread with the remaining cream mixture. Place the coconut and food colouring in a bowl and rub with your fingertips to combine.
Sprinkle the coconut on top of the cake and, using your hands, press into the sides of the cake. Refrigerate for 1–2 hours. Serves 12–16.
There are no comments for this entry yet.