princess cake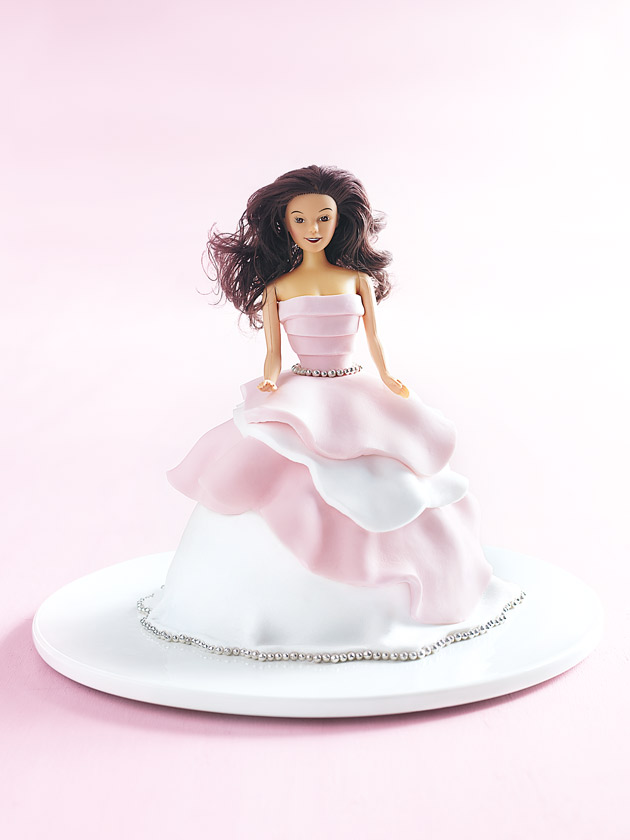 1 x quantity basic vanilla cake
(see link to recipe in step 1)

1 x 2.25-litre capacity (9 cup) dolly vardon cake tin

½ x quantity vanilla butter icing
(see link to recipe in step)

2½ x 500g packets store-bought ready-to-roll fondant icing

pink food colouring

silver cachous, to decorate

1 x half-doll cake topper (from specialty cake decorating stores and online.)
Preheat oven to 160°C (325°F). Follow the basic vanilla cake recipe. Pour mixture into a well-greased 2.25-litre capacity (9 cup) dolly vardon cake tin and bake for 1 hour and 30–35 minutes or until cooked when tested with a skewer. Cool in the tin for 5 minutes before turning out onto a wire rack to cool completely.
To cut Invert the cake and trim the base to ensure it sits flat. Brush away crumbs and secure to a cake board with icing. Use a palette knife to spread the cake with the vanilla butter icing.
To decorate divide the ready-to-roll icing into 3 equal portions. Knead each piece of icing on a clean surface until pliable. Add 1 drop of pink food colouring to 1 portion and knead until colour is even. Add a little more pink food colouring to the second portion and knead until colour is even. Leave the remaining portion uncoloured.
Roll each piece of icing out between 2 sheets of non-stick baking paper to 3mm-thick. Drape the uncoloured icing over the cake, smoothing any creases. Trim the excess icing from the base of the skirt and set aside.

Cut an approximately 24cm round from the light pink icing and drape over the first layer, allowing the icing to create ruffles.
Roll the reserved uncoloured icing out to 3mm-thick. Cut an approximately 18cm round from the icing and use to drape over the light pink layer. Cut an approximately 10cm–12cm round from the deep-pink icing and drape over the second white layer. Press to secure and decorate the hem of the skirt with cachous.
Insert the doll into the centre of the cake. Cut 4 x thin strips from the remaining deep-pink icing and layer around the doll's torso to make her bodice. Decorate the doll's waist with cachous. Serves 8–10.
There are no comments for this entry yet.