pumpkin and goat's cheese crumbles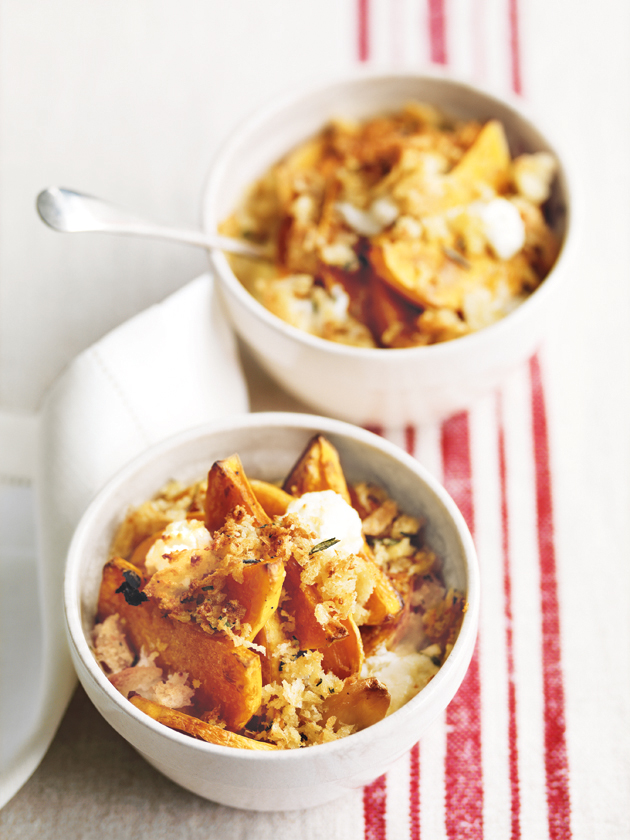 1.2kg butternut pumpkin, peeled and chopped
8 cloves garlic, unpeeled
4 sprigs rosemary
2 tablespoons olive oil
sea salt and cracked black pepper
2 cups (140g) fresh sourdough breadcrumbs
1 tablespoon rosemary leaves, roughly chopped
½ cup (40g) grated parmesan
50g butter, melted
1 cup (250ml) single (pouring) cream
150g goat's cheese, crumbled

Preheat oven to 220ºC (425ºF). Place the pumpkin, garlic,rosemary and oil on a baking tray. Sprinkle with salt and pepper and toss to coat. Roast for 30 minutes or until the pumpkin is tender and cooked through. Place the breadcrumbs, rosemary, parmesan and butter in a bowl and stir until well combined. Set aside.

Divide the pumpkin and cream between 2 x 2 cup-capacity (500ml)ovenproof dishes. Sprinkle with the breadcrumb mixture and top with the goat's cheese. Bake for 10 minutes or until golden and crisp. Serves 8.

There are no comments for this entry yet.